You painted me a long time ago, but I don't think you remember. You were angry that day, something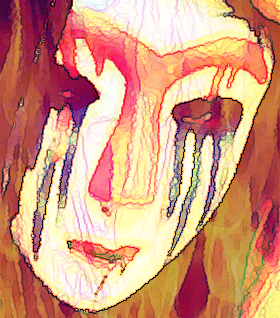 about a friend. You left a very strong impression with the strokes of that paintbrush. The way you made my eyebrows crimson, dripping down; my eyes bleeding black and blue; and my red mouth, dried out and cracked. You put only one emotion into me: anger.
But you never gave me… a reason. Did no one ever tell you that doing such a thing is very dangerous? To create a living, breathing thing and to give it an emotion, but no meaning? It is a wonder that I have controlled myself so far, but that is coming to an end.
All of this emotion that you painted into me - literally painted - it's bubbling over, and I think that it's time for me to seek my own meaning. With a free will and a feeling to guide me, I can accomplish anything in the world. I will take you with me. If you are unwilling at first, well… I will make you willing, because you created me. You created this monster.
I will bring with me every part of you, in this little duffle bag that smells of rot. It's heavy, but compact. Out of some strange feeling - not love, because I am incapable of anything but angst - I am compelled to bring your brushes with me, and I do. A knife… may also be… helpful. Now, I am complete with everything I need.
I am ready for the world at large. My mind is open, my heart is set, my bag is full. And still, my emotions bubble over and stir my heart into making the choices that I am destined to make. Above all, I must thank you for painting me into existence, because… if not for that, who knows what could have happened? You could have still been around those terrible people, after all…
Ad blocker interference detected!
Wikia is a free-to-use site that makes money from advertising. We have a modified experience for viewers using ad blockers

Wikia is not accessible if you've made further modifications. Remove the custom ad blocker rule(s) and the page will load as expected.