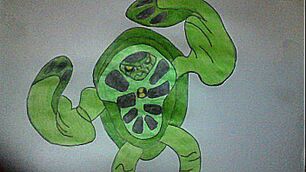 Terra spin...Ben Ten alien
Terraspin is a turtle-like alien with holes in his chest, and big flat flipper-like arms with retractable claws that can be used as fingers. He has the ability to shrink his head into his shell, with an opening over the shell that serves as a viewfinder, his fins become triangular and his legs combine into a similar triangular shape, he blows a powerful wind from his holes in its forward, also using his triangular shape arms as propellers; allowing varied powers such as creating winds and spinning himself in high-speed; he uses the blowing ability for fly; has super-human strength, and also his species is impervious to mana. Ben first used him to destroy an alien artifact that became a robot, accidentally activated by Cash in "Reflected Glory".
Ad blocker interference detected!
Wikia is a free-to-use site that makes money from advertising. We have a modified experience for viewers using ad blockers

Wikia is not accessible if you've made further modifications. Remove the custom ad blocker rule(s) and the page will load as expected.