[[THIS IS NOT FINISHED I MADE UP THIS GAME TODAY! --Bunny1002 (talk) 18:14, January 4, 2015 (UTC)]]

"HAHAHA fool! that last hit gave me and my army more power then the gods! now you and your friends blood and bodys will be blown to space!" king ball getting ready to kill you in the bad end.
king ball is the main bad guy in:
Block Hunt
2000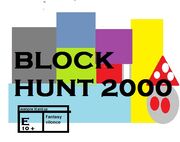 age: 2000 (human years) 25 (block years)
gender: male (human) ♦↔«»₵¥₪ (block)
species: block
side: EVIL BAD EVIL EVIL EVIL EVIL EVIL BAD BAD BAD BAD BAD EVIL BAD EVIL BAD BAD EVIL EVIL EVIL DOOM OF DEATH
likes: power, death, winning, killing, getting power, torchering people, blood.
dislikes: no power, life, loseing, being killed, loseing power, getting torchored, healing, YOU, YOUR FRIENDS, humans, earth.
eats: like all blocks peanut butter, cream, oil and milk covered cat food
Ad blocker interference detected!
Wikia is a free-to-use site that makes money from advertising. We have a modified experience for viewers using ad blockers

Wikia is not accessible if you've made further modifications. Remove the custom ad blocker rule(s) and the page will load as expected.